CIO and IT teams have been using DevOps and Agile programming for years to develop applications and software more quickly. Now they can also rely on low-code development platforms.
Today's low-code application development platforms can play an essential role in any digitally changing business. As needs fluctuate and new market opportunities emerge, flexible organizations need to innovate more quickly and accelerate time to market. While traditional development cycles are complex and can take months, modern low-code development platforms simplify the complexity of commercial software development and allow for deployment in weeks or days.
With feasibility comes more productivity. And this is driven by an efficient set of features.
Top Features That Simplify Low-Code Application Development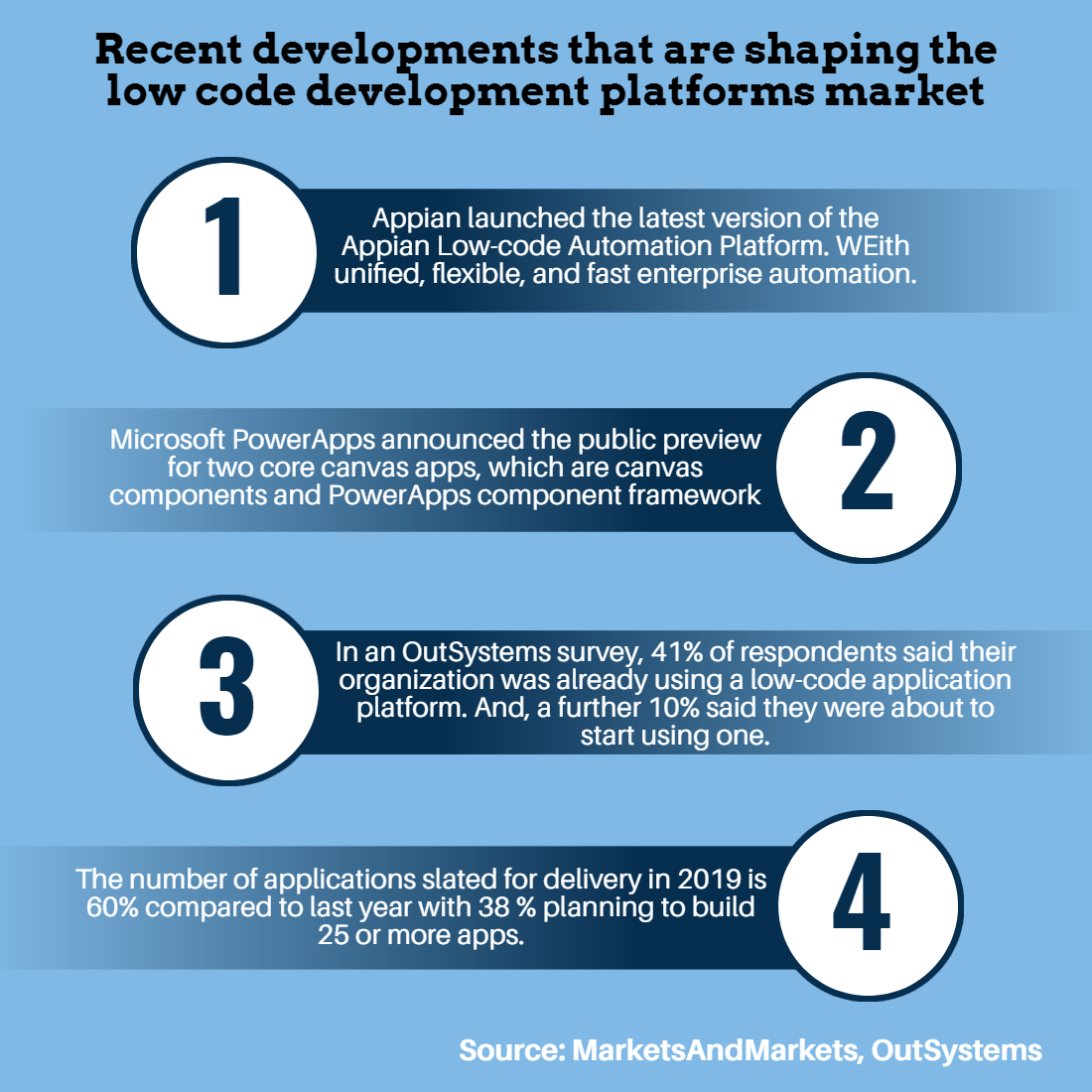 Visual modeling
Each process is exhibited visually. The graphical interface turns everything simpler to understand than lines of code and programming syntax. This makes it easier for developers to create their applications.
Drag and drop interface
Low-code app development platforms have a drag-and-drop interface, so you don't have to type anything. This saves the overall time.
Ready for mobile, ready for use
Low-code platforms automatically run your applications anywhere, even on mobile devices, such as tablets and smartphones.
Declaration
Low-code platforms implement declarative tools in several ways, such as business rules and visual models. You no longer need to write custom code. This means that it will be easier to change or add items as you master development in the future.
Scalability and security
Low-code platforms are at the company level, which means they are secure and scalable. If you choose the right platform, you don't have to worry about security.
The perks of using low-code platforms
The use of low-code platform has many advantages. On the one hand, if you are more agile when it comes to your programs. The development of visual design is much faster than coding.
It will also reduce costs. As you know, the faster you launch an app, the less you spend. This can be smartly done by hiring a professional low-code platform development company.
The time you save when using low-code platforms is also essential. You don't have to wait for months, weeks, days, or even minutes. It also means that you get real innovations in no time. If you operate in a regulated industry, you can use the time you save to facilitate compliance with standards, even if you work worldwide.
You will also appreciate the ease with which you can change an element of your application without going through lines and lines of code. If you need to change something, find the block you want to change and alter it.
Can We Say The Future Of Low-code Is Already Bright?
Companies are considering mergers, and acquisitions can take advantage of this development. Both companies have outdated programs to join the partnership. However, with the inexpensive development, the new company's employees will be able to update the old systems and make them usable.
Oil companies that see rapid changes during their transformation will appreciate how to get new applications. They can easily make data more accessible to employees with a few drag and drop modules.
Modern low-code development platforms allow you to accelerate software development, optimize business processes and scale exponentially to meet business needs.
Best1Tech, a leading IT service provider with a low-code software development platform that allows organizations to quickly develop powerful and unique applications for digital transformation and competitive differentiation.