In this digital era, every day, a new mobile application is born. Every day some brilliant minds are ready to put their app development ideas into reality. And why not, mobile app development outsourcing has decreased the cost of building apps. The availability of quality app developers who are cheap and affordable has boosted the idea of outsourcing. The outsourced app development trends are favorable in the Asian region due to low cost and high work quality.  
Let's check out the outsourcing rates below.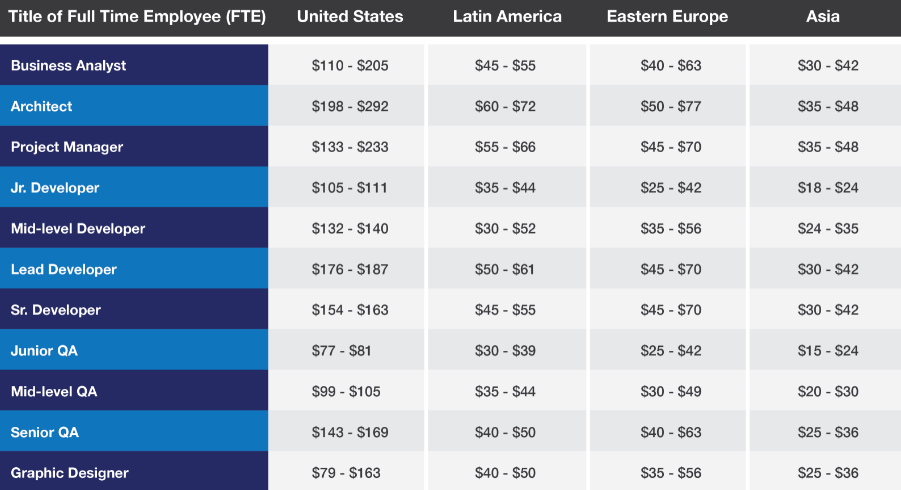 By going through the above list, you might have understood why outsourcing has become economically viable for companies worldwide.  
It is clearly visible that the labor cost of Asian and Latin American regions is favorable for companies. It is a pool of talents for low budget companies and start-ups with a low investment looking forward to transforming their mobile app ideas.  
Why to outsource mobile app development?
Starting something new is often difficult. If you wish to have a competitive edge over your competitors, then outsourcing can be the key to success. You may encounter many questions, and finding answers to them can be a bit difficult. But deciding to outsource mobile app development will not be that difficult. Outsourcing to India is a great option for both your pocket and the best mobile app development result. 
Now to answer the why, we have mentioned some benefits.  
Benefits of outsourcing mobile app development
A talented team of developers 
Talent is a top factor anyone would like to hire. If your location is lacking a skilled workforce, then outsourcing is a realistic option for you. There are many companies seeking talent to outsource their app development idea to get the best outputs. Locations like India, Latin America, China has a wide pool of talent who will provide you the best results.   
Yes, outsourcing your mobile app development can decrease the overall development cost, which is always a great deal. It will help you reduce overhead costs and help you make considerable savings on resources and infrastructure.   
Statistics say:  
Mobile app development outsourcing can help in reducing the costs up to 75%.  

 
59% of businesses are already outsourcing because of its cost-cutting feature. 

 

57%

 of businesses see it as a way to focus on their highest ROI activities. 

 

78% of modern companies worldwide that use outsourcing report feels happy about the results.

 
With this, we would like to ask, aren't that reasons enough to hire an outsourcing app development team for building your mobile app?  
An iOS app development and android development company in India has everything to create a smooth and high-end mobile application. From state-of-the-art equipment to a dedicated team of developers, they have everything to offer you an exceptional app service. To add on, they even provide you the option of automated and manual evaluation of apps that can help you in checking on the quality of the app. So, when you hire an outsourced team, ensure that you get the best quality work.  
Apart from developing a mobile application, it is essential to safeguard it too. If it is a business app, the concern should be given the top priority. This is so because these apps are vulnerable to hacking, which might lead to the loss of crucial data and sensitive information. When you are outsourcing a team, you need not worry about security because an outsourcing mobility service provider company comes in handy. They have a robust security mechanism, and their non-disclosure agreements and legal documentation are also on point. And we believe it won't get any better.  
Outsourcing will help you save time and work resources. When you decide to build an app yourself, you will need time to hire the required talent. Once hired, your team would take time to get to know each other and understand your app's overall ideas and goals. This may stretch the team's working hours, which will ultimately affect your budget. Outsourcing app development solves both the pain points for any enterprise.  
Consistent support and service 
Developing a mobile app is not the end of your project. It's the beginning. Yes, your outsourcing company will also give you consistent service and support even after the app is developed successfully. Whether it is an iOS app or Android app development in India. Right from fixing the bugs to marketing and launching it, they will do it all. It will be a full-proof app development process.  
While planning the app development idea, assembling, communicating, hiring developers, etc., it could take you around 4-5 months. However, you can have the well-designed app in just 3 weeks to 3 months (depends on your app idea) with a company as experienced as Best1tech.  
And there are many benefits of outsourcing. With this, we guess that you must have understood why to go with outsourcing mobile app development in 2021.  
What are the different outsourcing options?
To outsource mobile app development, you can decide from any of the below mentioned options:  
Hire the best app development company  
To get a better result, you can hire a full-fledged mobile app development agency. It assures the use of the right technology, complete skill, and analytics on what you are about to build your app. If you have decided on the platform to build your app, i.e., iOS and Android, you can go for any one of the app development outsourcing options. As a company, they will be more reliable, follow a time-bound delivery mechanism, and resources to re-design, alter, and even brainstorm for the app in your dream.  
Outsource to Freelancers  
Outsourcing to freelancers can be the best cost-friendly way to start on your mobile app development frameworks. Though it has some drawbacks like testing difficulties, a one-sided perspective, skewed skill level, as an app developer need not be able to provide an outstanding design frame. But if you are running low on budget and need it to be developed on an urgent basis, you can go for it. With the advances in technology, many new features might be introduced later on, and you can get your app updated as per the current trend.  
Freelance Team Building  
The third option is freelance team building. Here you can assemble the right talents to work with your existing team or fragmented team. Once they start working with your team, you can pay them on an hourly basis. This will ensure that the hired people will get timely assistance (if needed) from your existing team. Together they can collaborate and work as a team to complete the app development process with ease.  
How to outsource mobile app development in 2021?
So far, we have talked about outsourcing from a peripheral angle. It's time to get deep into the term and understand what you need to know when you are outsourcing mobile app development.  
Below are the points you must be clear about when you are outsourcing:  
Clarify your expectations and ideas 
People usually tend to miss out to convey the actual message due to poor communication or even when they aren't clear about the concept. When you are outsourcing, be careful about what you want to communicate. You must be very specific about your idea when you have a word with the company or the team you hired.   
Tell them your budget, final objective, time frame, and other related information about the app development. Usually, the developers follow the prevailing mobile app development trends, and clients expect a standard well-to-do app.  
Moving on, ensure that you have communicated your needs properly, like target audience, marketing strategies, user types, etc., to avoid any further confusion.  
After you are done with the initial round of discussion with your team, get a detailed plan of your project. Your plan will have the timeline for deliverables. Some aspects may be flexible and may not be pinned as planned, but it is completely ok. On the other hand, some must have been pinned as per the allotted time. Consider it as a benchmark to assess the app development progress and track the work hours and cost to develop your mobile app.  
You must realistic in your expectations. The reality and practical implementation should be defined from the very beginning of the process. It is possible that both of you can be deluded about the results, and the outcome will be messy.   
Hence, to be on the safer side, it is best to interact on the same level. Whenever a new development is done, you must be on board to give it a heads-up or rework. It is not about baking muffins and waiting for the last minute to intervene. You have to be proactive in providing the right feedback; else, you may not yield the expected results.  
How to choose an outsourcing agency?
First of all, you need to make a checklist of top outsourcing companies. Once the list is ready, it's time to segregate the ones with whom you want to work. For a better choice have a discussion with the company about your requirement. Know their team personally and then decide to go with the one that sounds convincing to you.  
We bet this approach will work because we at Best1tech follow the same approach with our customers and let them know what they can expect from our service in the first discussion itself. We have a great portfolio highlighting our works. Under any circumstances, we don't leave any room for misunderstanding and confusion. We will take you to a real plane with your involvement in each stage of mobile app development. Our entire team will work to create multiple pathways, alternatives, low-cost routes, etc., for your project idea and ensure a successful implementation.  
You may find many white-label solutions for the quick launch of your app, which can be customized and adaptable to fit your project needs. You only have to hire the best talent from a company who adore Playstore and App Store with outstanding mobile apps for more than a decade.  
Wrapping Up  
We don't say that outsourcing is a necessary norm, but yes, it is a conscious decision. It requires a thorough analysis of your project requirement—talent accessibility, budgetary constraints, urgency, etc. And by going through the above paragraphs, it might be easy for you to decide on outsourcing mobile app development.   
If you find the content convincing and support the idea of outsourcing. In that case, Best1Tech is a company that has a team of experts who are obsessed with creating excellent mobile applications for our clients.   
We never miss out on any detail described by our clients and implement our talent and expertise in creating trending mobile applications.  
Wish to hire our app developers to outsource your mobile app development idea?  
Contact us now.